Enjoy the Happy feelings …
Ditto to some extent I would say. I booked the series 1 on 24th Feb and got it delivered in 2 weeks. But here's what happened after that. I choose to ride it to Mysore. Crazy right. Sitting in the RCB bar in the church street celebrating the delivery with my friends, I started calling A2B and coffee days to check for a charging point, but in vain. Nevertheless I chose to ride. Left church street at 6 30. Reached Kengeri in half an hour. Now I hadn't planned actually which mode would be the best given the charging time. While fast charging at the last point in the city I called up my friend in Ather to understand the realistic range. He clearly insisted on going eco. I started with 87% charge at 8 pm and reached Mandya by 12am. Seriously 90 km in 3.5 hrs with dinner at a hotel before maddur. Charge left 0%. It was a ride on a bullock cark. Controlling myself from hitting the warp. After searching for a bit found a marriage hall and just parked beside an extension box and charged it for about 20 mins. The caretaker asked a lot about the bike, was impressed and later he chucked me. I had to search for a plug point again now it's just 12 30 am. Luckily found a plug point in the Bharath petroleum bunk. Charged it to exactly what I needed to get home. 42km. Because I ran out of patience at 2 am. One hour 1 10 mins later I reached the Mysuru bus stand again looking for a charging point. I needed atleast a couple more and I had less. A police guy mentioned, 'ee electric bike du ide problem'. Yeah thaat I wanted to hear on the first ride. I lost hope and I just went with the luck. While it was still on I took a break to take a leak. As relieving as it was, it was disappointing as well. The bike didn't start. Although there was still charge. Facepalm moment. I started pushing it still atleast 2 kms away. I had dragged for almost 300 m and there comes a Samaritan at 3 30 am. He towed me to home safely. Long story short I took 7 hrs to reach home from Bangalore. And I traded R15 V2 for this piece of black gold!
Not really. A lot of owners from Bengaluru have ridden to mysore and back. Comfortably.
A simple message on the forum or a search would have led you to this post
There are 2 charging points in Maddur. So Bangalore to mysore can be done with just one charge at Maddur for maybe 4 hr charge… And nobody there bothers you, from I've heard.
Could have quite easily ridden it back to mysore I think
I wish there was a way for everyone to know about this Maddur charging point. Most people who need it, don't know about it @Abhishek people aren't utilising your charge port.
Damn! I didn't know it was installed and dedicated to Ather folks. Definitely gotta plan a trip🙂 BTW, is Ather Mysuru up and running yet? If not, any tentative ETA? I know they have a makeshift location but hoping for a fast charging point.
Very very soon

I did use the charging point in Maddur. The security guard was excited to guide me to it and gaurd while I had my dinner. But definitely can't ride 40- 45 km in half an hour and then wait for another 3 hours for another charge.
i have listed it on PlugShare app
listed details there…
i just hope more people make use of it
last month when i was there, restaurant guys told me couple of cars (reva and kona) charged there but only 2 wheelers in entire year.
and
request everyone to use plugshare and start adding plug points or charging stations which you are aware
also add pics with some description
i have started adding few along with AtherGrid points
also note i have noted from past few months tatapower started ating a lot of charging points all over india
i believe an 4 wheeler ev owner with around 250-300km range can easily go around india (most of it)
so please add places which will help the community
started doing from couple of months
I'll do many in coming months
for wall plugs there is no indian plug image-for now we can use other wal plug and update in description (5a/15a)
have written to plugshare on this, they advised that request is sent to developers but didn't guarantee (hope this will be considered in next update)
examples
maddur plug
Ather grid examples
please update
you can write your review
(you can click on links - not sure why it is showing the way it is)
reason am using it because it is well designed out app and known in ev community
Congratulations!! I am 3rd Ather 450 owner in Mysuru! Though registered in Bangalore to get things done faster, I am using it here in Mysuru for last 1.5 years!
Welcome to the crazy club!
Bengaluru to Mysuru on an Ather is no more difficult thanks to @Abhishek. Many people including me had done it before @Abhishek installed that point.As @Suraj_madhu told, all you had to do was a search on this very own Forum.
Anyway, this experience will help you a long way moving ahead. Congratulations on completing it.
@tarun, Looks like @abhishek.balaji has got access to your account and is posting on your behalf!!
I had spotted one 450x last week in Mysore at Kuvempu nagar complex. I was also a series 1 bookie and waiting for my delivery to start on Mysore. I called up the dealership here immediately and cross checked if I missed anything.
Anyways congrats to the first two 450x owners of Mysuru.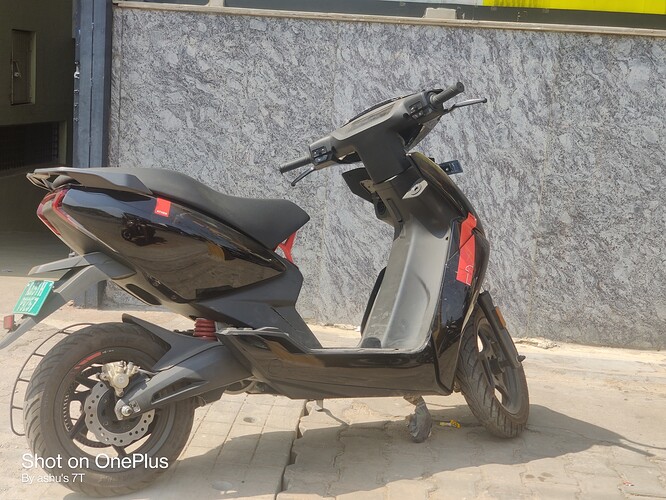 This one belongs to which among you.
They must have taken delivery from Bengaluru. You could have too. It's a 4+4 hour ride back to mysore. But I suppose deliveries in Mysore will start soon anyway.
Nice click. I'm planning on copying it.
This isn't mine. Because I've not been to that place.
I knew about that charging point even before I booked my vehicle. I just didn't want to take an unnecessary risk and the auto to transport my vehicle was at my disposal so I had no problem
Hey @sagarbn, @neetha.a.v and @nikhilpn.ashwa text me at pratheek_rayeli on insta. will add u to the ather mysore group,we are planning trips after things get back to normal,so
I would like to join for the events
How do I add u to the group?,can u text me on insta pratheek_rayeli or give me ur no.