By the time they launch it should be in lakhs
Yeah I guess but isn't it too soon to claim what range is possible - particularly 280kms+ with limited testing?
Everytime I read about Simple Mark 2 the only thing comes in my mind is Freedom 251.
I still can't get my head around those range numbers!. Is every nook and cranny going to be filled with battery packs?. 18650 or 21700 cannot give out the kind of energy density for a pack that can fit inside a scooter that size.
I am struggling to visualise this aspect of specifications.
Not sure if that's the spec, but a hub drive with a well placed bms and electronics can give a lot of battery space in the insides as well as under the foot board, maybe?
More battery means higher the price, how can they expect to price it between 1.1-1.2L?
Even if they managed something to that effect, what about the added battery weight? something definitely seems off…
I think they already mentioned that they're using a 4.2kWh battery pack (usable) so something close to a 4.5kWh battery pack. Which considering the size of the scooter is doable but again weight, So it's not a question of the quantity of the battery, rather the efficiency. It could make sense. Everything but the price of course. ( But Revolt is also able to give us a 4kWh battery at 1.2 Lakhs if I'm not wrong, so still giving them the benefit of the doubt ) With a 4.2kWh battery and a quoted range of over 250Km they're saying theyve cracked sub 20Wh/Km efficiency figures. Even considering a 150Km range figure, which would be on their power mode- sub 30Wh/Km in their power mode-?
So either it's really underpowered or just super efficient. I'm leaning towards the former Its that's not impossible to get as a lot of people on the forum have also posted figures of around 20Wh/Km and direct hub drive will minimise the loss. But reproducing it by everyone will be impossible especially with added weight of the bigger, much bigger battery. So they seem to be over promising and will under deliver. Early signs of a company that I personally wouldn't trust tbh.
Interesting. Ather was able to fit a 2.7KWh pack below the footboard and this vehicle looks to have similar dimensions as the 450. Now that would only mean the remaining 2.x Kwh would go under the seat - maybe as a removable/swappable pack?
Either way not impossible. Like what the TVS iQube has done. 1 in the floor board and few under seat. Still expecting max range of not more than 150Km which still if under 1.3Lakhs would look promising. And not impossibl since Revolt is able to deliver at that price. They could have just quoted these conservative figures, and built some trust.
My Honest opinion on this topic
nobody can give you ready public charging infrasturcture before selling the bike.

the experience of owning a ev and addressing the issues users faced before Ather come in to the market.
Can anybody give service plans along with the vehicle?
There are lot many points I have
I can only admire the innovation Ather has done to build this product.
Others, lack that innovation.
Conversion kits?

Amazon, Flipkart?
The Mark 2 will be sold via the company's website and online platforms like Amazon, Flipkart, etc.
Ya, I know bounce has been working on conversion kits for a while now. But didn't know it was with simple energy. Or mayb this is just early talks. 🤷
Looks like their website is down
and their contact is gmail…? in facebook just because of this i dont trust this.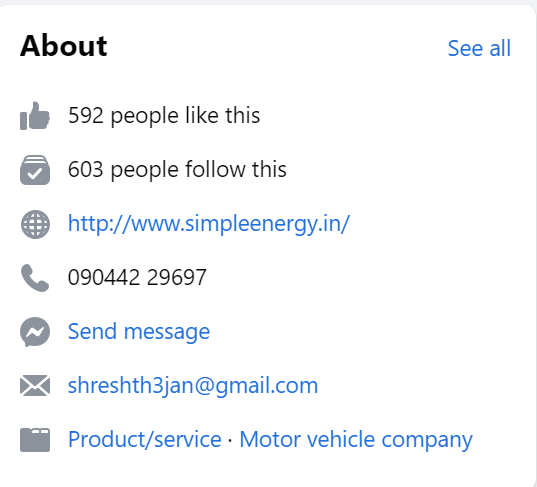 Even the domain is http
"Simple" beginnings, maybe. Let's wait and see, in case what we see is the real deets of this Co.
This is very good…Am a huge fan of Ather energy for its innovation. However, I am little disappointed that Ather makes only intelligent scooters? Why? Cannot Nonintelligent , non-smart and yet long ranged electric scooters exist? I mean how many of us bother about having a smart vehicle rather than leaving aside our range anxiety ?
I think with a long range electric scooter, Ather has the capability to capture the entire Indian market…it has everything except an outside city range…
Give it a couple of years or maybe 4-5yrs and I think ather will be there.
4-5 years is too late. Frankly Ather is over thinking about usefulness of smart features in 2 wheelers. Their fixed costs are increasing enormously because of these smart features (more software employees + high wages). This leads to high prices of vehicles (450x) resulting in limiting the market and volume for the company. Volumes are very important for profitability.