Hey folks,
OTA update Atherstack Cylon introduces the all-new SmartEco mode on Ather 450X & 450 Plus. The update will reach your scooter over the next week as we gradually roll out the update. SmartEco is your best chance to get TrueRange (85 km for 450X, 70 km for 450 Plus), especially for longer rides.
The current ride modes (Eco, Ride, Sport, Warp) put a cap on your maximum speed & acceleration, whereas SmartEco intelligently regulates the amount of power available to you by dynamically adjusting your maximum acceleration. It does so after assessing a number of factors like road conditions, your riding style and number of passengers.
All this means that SmartEco is flexible enough to let you Ride free when you have excess power and (automagically) switch to Eco when you have less power.
To get the SmartEco feature:
The scooter has to be updated to the latest build (Atherstack Cylon). For instructions on installing the update, do refer here: OTA and App updates

The mobile app must be updated to the latest build (5.3.2 or later).

Enable SmartEco through the Ather Labs Page on the home screen of the Ather App.

Activate SmartEco through the 'Settings' option on your dashboard.
The Power Bar
Once enabled, a power bar will appear on the right side of your dashboard. It is an indication of how much power is available and how efficient the ride has been.
If the bar is blue, the ride has been efficient so far and is on track to hit TrueRange. You can gradually increase acceleration as long as the bar stays blue.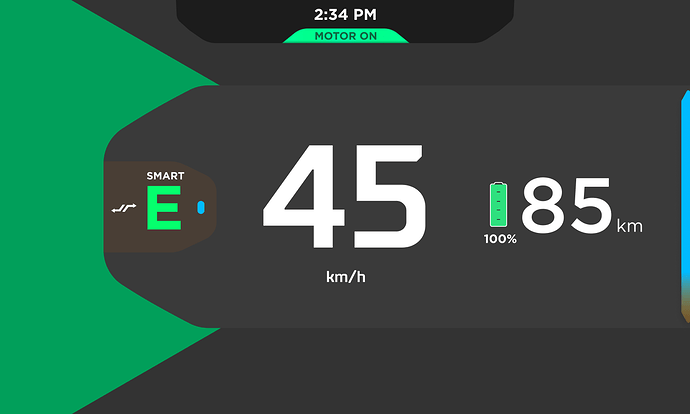 When the bar lowers and becomes red, the ride's efficiency is low and the amount of power available to the user is low. Exercise caution, ride slow and don't try to overtake. Switch to a different mode, if needed, to accelerate freely.
So go ahead, get SmartEco and ride without range anxiety. As always, we are happy to know your thoughts and opinions about the feature. Comment below or better, go to Ather Labs to submit feedback.
Note:
The probability of achieving TrueRange is highest when a single passenger is riding, the entire ride is in SmartEco and the ride is at least 10km long