Hello Ather Team any idea new updated scooter lunch and start Series1 limited addition scooter start selling any update.?
Welcome to 2022,
"The product which you are looking for is no longer available"
It looks like we have people in line for the collector's edition of the rumoured new variant!
Better put me in the line too
, with all the brands launching long range model, I wonder Why is Ather lazily behind, BTW Ather in their mind
What changes do you folks wanna see in the next model?
A much faster delivery with lower waiting time and extended range with few features such as Cruise Control, ReGEN Control.
Minimum 100 km range , New UI for the dashboard, New colour scheme , a little strong head lights. If these will be the changes in the new model it will be a boom product in the EV market.
5 G ready dashboard Maps from Map My India 3d, offline, real traffic update
6 kwh battery liquid cooled
Atleast 8 kwh motor liquid cooled
Clear glass tail lamp
Wider seats
8" amoled display
Atleast 4 gb ram
7 th gen Snapdragon
ABS
14" wheel
Top speed to 120km/hr
Better charger atleast 25 amp/hr
Blue colour that one I'll post the photo later
And the most import one redesign the mirrors from decorative to actual functionality
This! It is important and something that should happen across existing variants too, if you ask me. Google Maps is unlikely to give us the features that we are asking for anytime in the near future, and possibly is not a viable product for Ather maps anymore. Best to move to Map My India sooner than later.
An Extended range model with minimum of 100 to 130 kms of range.

Softer rear suspension.

And with a more competitive pricing.
Immediately in 2-3 weeks: Launch 450+ with enhanced battery equivalent to current 450x with new color options. Not much R&D required as we can relabel 450X as 450+ with restricting few features
In a month or two : Launch 450X with upgraded battery pack of 4KWH along with multiple color options. If possible please try to improve dashboard hardware like Ram, processor and adjust suspension to little soft to absorb the pot holes and speed breakers.
Hi Balaji,
Firstly please announce some date for the launch so that the prospective buyers will wait and not hurry with some other options like Ola S1 pro or new iQube ST.
BTW I know 4-5 guys waiting for new variant. They have booked 450X and waiting for the new ones to come…
If Ather is launching a better version of the existing scooter, please let us know when it will be launched so that people like me who have already booked the existing variant can pre-book the new variant.
So as per this topic's title can we really expect production of new model before the end of this year?
Cruise control is a most needed feature for ev, don't miss it.
Increase the performance. 0-40 should go like a blink
, more faster than warp. Top speed should be 100 in GPS not the speedometer speed. It's time to see 3 digit number's on the dashboard.
No matter whatever the range is, the performance should be INSANE!!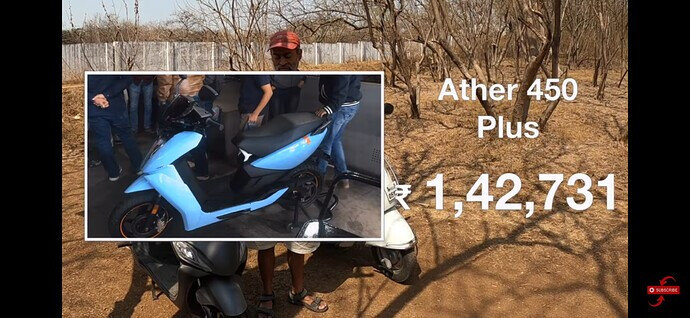 This colour combination, Few more things, Brighter Headlamps Maybe Laser ones? Rear grab handle slightly positioned higher? Full cover for Rear drive Belt so less cleaning, Keyless? NFC card like Tesla? TPMS right from the factory, Switching to Michelin Tyres, centre stand? Better quality panels?
One more important point is need to be more safer. I know it's already safe but nowadays weather is changing more than expected. The heat in the city is increasing a lot like never before and sometimes it will be raining 24hours continuously due to which some roads will be filled with water till the seat of our scooter, so it needs to be on the safer side in these kind of situation's.
Sometimes at night in village areas where there is not even a single light, there i feel the dashboard is little bit brighter because of the color in the speedometer. So an option can be provided to further decrease the brightness.
My phone got this feature in android 12. The brightness will decrease a little bit.
And… smart charging!!! Now even my phone got this feature in android 12.
Fixing of all the issues which 450X is facing such as extended mud guard on both front and rear tyres better headlights more range at least 150km min if not more more comfortable seats for rear pillion footrest for pillion and main stand and rear back rest for pillion for saving from jerk of warp mode these are basic issues which 450X is currently facing and even some personalisation freedom
will it be implemented on new buyers of Ather 450x so that it will be cool and awesome to use
this is awesome will this color be changeable for existing Ather 450x people
Ladies footrest, center stand, cruise control, True range above 120