And the Israelis recently confirmed about Aliens!!!
Quick Update - Got my socket cover changed today since the previous one didn't accommodate the Wipro smart plug (16A) for monitoring consumption and controlling the plug.
Old -
New -
Will use the old Acrylic case for another socket !
Can you please help me in getting one for me as well ?
Hey, you can get in touch with the person I got it made from. Unfortunately , I'm more or less always stuck in some work and don't want to commit something which isn't possible.
My sincere apologies ! Though you can DM me for any inputs, and I'll surely respond soon.
Place : Devi Plates - Computerized Engraving
Location : 50, AM Ln, Behind-B B Bakery, Basettypet, Huriopet, Chickpet, Bengaluru, Karnataka 560053 Person to contact : Mr. Prabu
How much did they charge you for the number ??? Please advise .
Hi,
This looks cool. What is the dimension ?
Thanks for above post for idea. Mine is more economy one, complete installation cost me only Rs500/- paid to electrician+ 350/- box. Total Rs 850/-. extra wiring for MCB and MCB switches old ones used[available at home].ignore it if you dont like it - i always look for cost effective solution and dont increase the price of Ather.
I
As long as the wires are of the right gauge and not very old, it shouldn't matter that you were able to reduce installation cost by reusing equipment.
Have been looking such a box!. Do you mind sharing the dimensions and where /how you procured that box?
Only MCB are reused , as they are working well and not in use, so i have used it (Wire left over from old bundle available 1.5 guage wire)- Box dimensions 14.5" X 17" X 5" which are shared above(should not be less in dimension). If you are from Hyderabad Location you can get it from Troop bazar. I think you can try from submersible water pump shops for above box.
Is the box made of metallic or Pvc/Nylon?
Its Plastic box, they have given plywood piece at the back for shock proof.
This looks great, as long as your happy, that's all that matters @mvallikumar
Yes Anees, It just cost me Rs 350/- that can give safety and dust proof to Dot Charger. Missing part is good looks.
You can always use a thinner & Paint/Stickers to remove branding and make it more subtle looking at nominal costs if you DIY.
BTW., @mvallikumar can you please put the dimensions of the box. I am in Tumkur/Karnataka I want to check if this box is available in my local market or any other equivalent to the dimensions you have. That looks perfect.
I got the DOT installed today, i also tried most economical way to do it.
350 Paid to Electrician who did excellent job and wires where taken from the main box with 2.5 Sqmm wire and with proper earthing as well and he also checked with multimeter and test lamp.
Bought 16Ams & 5ams Roma Socket & Switch with box cost me 460
Bought two SS heavy hooks Medium size for 20 Rs.
Used Carton Box sheet just to protect the back side of DOT
Spent 830 as of now, if needed will get the Wipro 16A smart Plug as well.
Hooks were inserted on the key hole of DOT and the other side was evenly placed on the Grill inside the home and used the Carton box as a layer between DOT and the grill. All working fine now !!!
Pics for reference…
!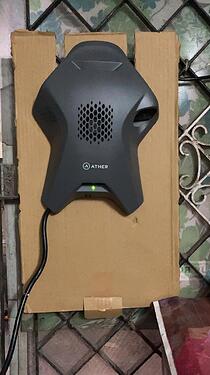 Hooks are ok but I used below type for my dot (previous vehicle 450). Below are pictures reference only I bought them locally in SP road.
These are more permanent than normal hooks.
Hooks are 18 per piece. I didn't remember the price for nut bolts, but they don't cost much.
I stay in rent house so I decided to make a temporary arrangement ( My owner is ok though & even suggested diff places to fix) more over the ather technician who came to fix it said it is not convenient to fix it.
Similar to your arrangement remove the top cover place the bolts and tight the nut from outside washers may be required.
Sure thing, will consider this Kumar yes it is better than normal S hooks, i though that will be more strong, tomorrow i will check this hooks in local Hardware in chennai and put an 4mm Plywood on the back with those similar Screws and bolts bro.
Thanks for ur suggestion… will replace it soon
Thanks Ranganath, i will remove existing sticker and go with Ather sticker soon and upload the picture.
Gave inside box measurement in cms, go with 2-5 cms more in dimension. .
Thanks @mvallikumar for the dimensions! Unfortunately none of the stores in my locality sell these type of boxes.
I found a trader on Indiamart that sells these of dimensions 450370200(mm) and quoted Rs.750+GST. He claims the one he has is not just plastic but FRP(Fibre-Reinforced-Plastic).
I will give it another try in some other shops or else I will have to travel to Bangalore to get this.
Try to visit shops instead of trying from Indiamart/Online you will get better price.