Yes series 1 have free service pro plan
Just a reminder to everyone that when it rains please don't go beyond 40 kmph. As the MRF tires of the bike are not good.
I was riding at 60+ in today's rains … grip was fine.
You have to be safe though … no sudden braking I guess.
Finally gave my scooter today. Just putting out for future Ather owners, a rough idea what I had to do to claim insurance. Process can vary.
1 - Contacted the Ather CC to know how to proceed, they requested me to raise a claim with my Insurance company - goDigit insurance. Gave me an approximate quote of 5000/- from the images shared with them through ticket raised via Ather app.
2 - Called up goDigit and explained them what happened and provided all the details. They requested me to upload images of the full scooter, along with the damaged parts through a self survey link. A Surveyor gets appointed to my claim number, to verify the same.
3 - Got a claim number, and tried uploading the images of the scooter. Unfortunately no image was getting uploaded. Informed the same to goDigit and my surveyor.
They said I need not worry, I can directly drop the scooter to the workshop, they'll do the rest.
4 - Dropped the scooter today at the workshop , Ather energy Proto lab in BTM layout and did all the formalities and gave them the claim number. Their estimate also is currently 5,000/-. They said they would return my scooter by Thursday (14/01/2021) and would deliver it to my home, as I have free 1 year Service Pro plan (450x S1)
Will try to share the breakdown of parts here for future reference once I get the vehicle and invoice !
On a side note - bumped into @jeetash at the same time in Ather workshop and recognized him from his customized helmet and he, after seeing my S1 pics on this thread !
pleasure meeting you bro! He was kind enough to drop me, on his S1, on his way back home. Definitely a very chatty evening!
Yeah great meeting u too and all fellow Ather owners … one day I saw 1 series 1 on the road and I parked up next to it smiling … the lady was wondering why I'm smilling… then I gestured towards the bike and gave a thumbs up … that's when she realised I was on a series 1 as well ! Lol
Finally the "batpod" was returned to me on friday evening (15/01/2021) since it wasn't a working day on the 14th. Happiness knew no bounds. Promises were made again to myself, to take care of her like my own child.
Getting back home from office was more exciting after a week's anxious wait! All fixed and brand new -
Now my observations (and mistakes, you could say) :
1 - I observed I don't have "Zero-dep" Insurance. HOW? How did it skip my mind. Anyways I needed to pay for deperciation of parts (Of a vehicle which is 10 days old) - 3576/- (
)
2 - My insurer approved all parts to be changed whichever were damaged, BUT not the side stand. Didn't receive any satisfactory answer from Ather as well, which I dont blame (Its GoDigit's call). I had to pay for my side stand additionally - 1200/- (
)
3 - Please share any document shared by your insurer with Ather as well, ASAP and receive an acknowledgement over call with CS. VRO (Vehicle Repair order) which permits Ather to carry out the repairs, was shared with me and I assumed it was shared with the workshop as well (It hadn't been) due to which my vehicle sat idle for 3-4 days. Hence - Keep taking updates. Super important to get your vehicle on time.
Here are the part prices below, for future reference : As usual, Prices can change. Please use them as a reference figure.
Scooter was delivered home, at my convenience and the whole process was super smooth. BUT, I did notice there is a very minute patch on the new part where the clear coat is missing.
Firstly, I don't have the patience to send my vehicle again. Secondly, let it be "Batpod's" birthmark.
Hope this helps other Ather owners and never happens with anyone.
FINISH.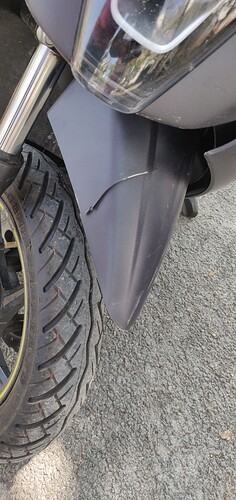 Estimation for insurance is 5-6k. It's been a week since delivery. Do I have to opt for insurance? Kindly suggest?
Who made that estimate of 5-6K? Ather service? Looking at the damage, I feel the estimation from Ather will be similar to that of @Cloudgraphy (around 8k). I would suggest you go for the insurance claim. reason as same as below
You can ask @Cloudgraphy for more details of things to be aware of.
Hey, sorry to hear and see this condition of the vehicle! Its depends on your pockets to be honest. In my case, I genuinely didn't feel like giving out of my pocket (even though I could).
As hemanth says correctly, insurance is there to cover such things! You can arrange a pickup, or drop ur vehicle at BTM proto lab and it should be back in about a week. But please do follow up almost every two days and share all ur docs u receive from ur insurer.
An enthusiast Royal Enfield hit from side when stopped on a signal point at JNTU, Hyderabad. I understand he was in hurry and tried to enter a narrow space between my Ather and another car. By the time I realised some one is trying to grab the narrow space. It's just happened. That moment I thought the side panel would definitely get a dent or might broke. However, it's survived with small scratches deeper to the bottom layer of the paint. I had put a 3M PPF on first day of delivery itself. I took the delivery of S1 on March 1st (17 days ago)
for floating panel and floor panel it will cost 3,197/- add labour charge of 850/- i paid rs 4011/- on 9/4/2021 delivery 11/4/2021 vehicle misplaced by my wife 13/4/2021 bill paid 4011/-
as per my point pay from your pocket don't claim as of now thru insurance it will be helpful later
thanks for information its very helpful
With what context is this ? Aren't u too late to respond to all the queries ? Lol . The topic is done and dusted
what to do i am always late little bit
Why bro Ather charged? it's a new vehicle damage …free of service is not available in Ather?
Last week Going Merry had a terrible time.! Got hit by another two wheeler while waiting for the Signal. Police came to file a complaint against the other person for rash driving, unfortunately he is a daily wager. So had to let go of him. This happened on 13th April where CS is on leave.
Immediately called #GoDigit to register the claim, surveyor done his job over video call. Claim was confirmed within 2 hrs.
Called the CS the next day and requested for a pick-up. Had a smooth coordination with service team and after one & half days later got my Merry back, as if it is new. The live feature in app.atherenergy.com on Service is so cool.
Finally ended up paying 4.5k for someone else mistake 🥲
Thank to #serviceteam and to #Godigit.
Accidental damage isn't covered. In such cases it's always Insurance claim at or owner's cost. The pickup charges wouldn't have been levied for this IMO.
its our physical damage bro so we have to bear it
I'm planning to bring scooter to my hometown so sent the vehicle for service and claimed insurance for tilted left brake and fixing the panel scratches.
Insurance claim was rejected due to late intimation
After that I asked for a service estimate and got estimate of 13617
Please DM me if anyone is interested in buying my kidney
For Spares Parts - GST kills it with high taxation.
Irony - Entire EV is taxed at 5% (essentials) whereas most spare parts are taxed at 28% (luxury). It is not just for EV. Many electronics suffer the same fate.
For a badly damaged vehicle, if they end up procuring all parts, the total price could be double that of the total EV.
Last week met with an accident while it was raining in Mysore at 6:35 the other guy was standing in the wrong way trying to cross the road with 5 pillions on board in a Honda Activa I saw the other guy 10 to 15 meters far away and tried to break hard, the MRF tires are so bad in rain my speed did not even decreased a bit and the unfortunate happened. My Ather 450x is just 13 days old now and the accident happened on 15th October and I dont know what else to do other than calling the a sales guys who helped me buying the 450x he has been answering my call and informed me to bring the scooter when the spare parts for 450x are available in the newly opened showroom in Mysore. I will be grateful if someone guide me through the process @abhishek.balaji.